Phone



Mon. - Fri.
9:00 - 5:00 PST
Fax



24 Hours














Bug Detectors
ICU Inc. has developed several proprietary bug sweep, and bug detection instruments. If you need to know if you are being watched or listened to by electronic surveillance equipment, we have the technology for you to detect and locate any bug any where every time.

Mini Wireless Camera and bug Detector
The Mini Camera Detector is so small you can take it anywhere. When a wireless camera or bug is detected, an LED light flickers and an audible alarm sounds. Advanced circuitry reduces false alarms from background interference. A squelch sensitive tuner allows you to automatically scan variable distances and channels. The unit detects frequencies from 50MHz to 3GHz. This is an powerful bug and camera detector packed into an incredibly small package.


* Battery: 2 x CR2032
* Frequency Range: 50 MHz - 3 GHz
* Weight: 1 oz.
* Dimensions: 3 1/4" x 1 1/4" x 3/4"

Features:

* Auto sensitivity tuner
* Detects frequencies 50 to 3 GHz
* Multi-channel scanning
* Size is similar to a lighter
* Background noise elimination
* Audio and LED alarm

Mini Wireless Camera and bug Detector $75

Ordering Information
The Keychain Privacy Collection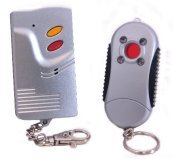 Privacy assurance you can take with you anywhere and everywhere! Public restrooms, gyms, locker rooms, home, tanning salons, office, or anywhere hidden cameras or audio/video transmitters may be lurking to invade your privacy. In less than 30 seconds, and the touch of 2 buttons, your privacy and peace of mind are assured. The Keychain Privacy Collection utilizes two ultra compact "keychain" type detectors that can be attached to your keychain or carried in a pocket or purse. Long life batteries included in each unit.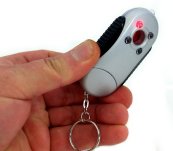 The ALL NEW Keychain Camera Detector quickly and easily detects hidden cameras at the touch of a button. Wired, wireless, or hidden in an object, the Camera Detector's unique VPF technology (variable pulsating frequency) high power LED's illuminate any camera lens from up to 10 feet away. The Camera Detector shows you exactly where any hidden cameras are. The Camera Detector also incorporates a convenient one touch, high power LED "mini flashlight", a great aid for walking in the dark or locating a keyhole.

The ALL NEW Keychain Bug Tracer "sniffs out" hidden audio/video transmitters. With the touch of a button, the Bug Tracer alerts with flashing red LED and beep tone if transmitters are present. As you approach transmitter source, beep frequency and flashing LED frequency increase. High and low sensitivity buttons aid in quick location of RF source. Wide frequency range (50 Mhz - 6 Ghz) responds to all the most widely used transmitters including 900Mhz, 1.2Ghz, 2.4Ghz, and 5.8Ghz. Beep tone may be switched off for silent operation.

The Keychain Privacy Collection exclusively from ICU Inc. don't be "caught" without it!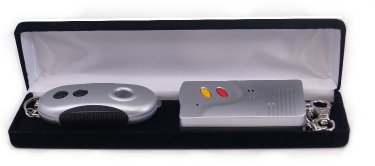 The Keychain Privacy Collection $125
Ordering Information
Professional Bug Sweep Equipment